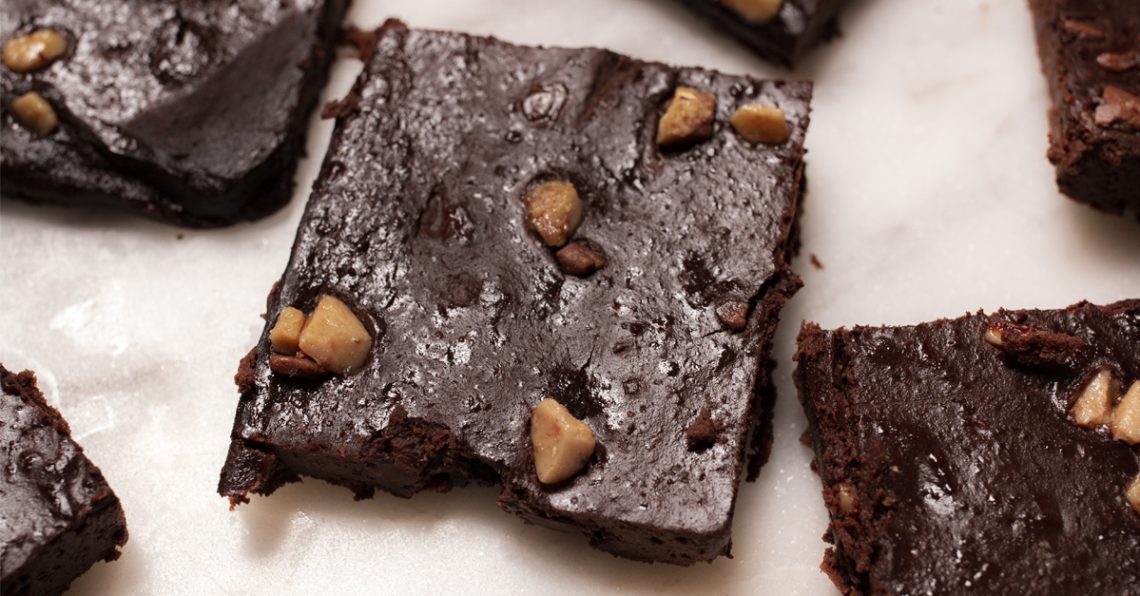 Healthier dark chocolate fudge brownies [recipe test]
This might come as a shock but growing up chocolate wasn't one of my favorite flavors. Whenever we had Neapolitan ice cream (you know, the kind with vanilla, strawberry and chocolate flavors side by side) around, I would always only scoop out vanilla and strawberry.

I would even kind of frown at the thought of chocolate cake thinking that most other flavors were far superior. I know..what the heck right? But if you're someone who isn't crazy about chocolate, I totally get it. And if you love you some chocolate to the moon and back, I also get it (now).

For whatever reason, I've been getting more and more into dark chocolate lately. There is something really pleasing about the initial bitterness of it that then settles into a slightly sweet and melty sensation.

Though I don't always have a sweet tooth, when I do, I often gravitate towards sweets that are either not too sweet or are also kind of savory at the same time. And when it comes to those that incorporate chocolate, I appreciate a good chocolate chip cookie, brownie, and chocolate cake. It's all about the right balance of flavors.

A sprinkle of sea salt over a decadent chocolaty dessert? Yes please.

Also, once you've had really good quality dark chocolate..it's really hard to go back. We had some high percentage dark chocolate that we bought on our London trip last year still sitting in the cupboards and I've pretty much devoured most of it.

I also recently realized that outside of choco chip cookies, I really haven't given chocolate dessert-making much love at all. So I had Matt pick up some cocoa powder for me a couple grocery runs ago.

The first thing I made with it was a double chocolate banana cake. I figured, why hold back? Let's make something extra chocolaty. It was ah-mazing.
The next thing I made was a "healthier" fudge brownie. I referenced this recipe but made a few modifications (see below).
Let me preface this by saying that I was incredibly impressed by the amount of detail Amy put into her post and recipe. I love how technical she is with the whole process and it's why I chose to use her recipe over dozens of others. Also, I've made muffins in the past using Greek yogurt and was excited to see that she used it in her recipe.
So why did I make some modifications? I either didn't have some of the ingredients or just felt like being a little experimental:
Instead of coconut sugar, I used 1/3 cup of organic light brown sugar (in truth, it would have tasted better with a bit more sugar)
I substituted 6 Tbsp of nonfat milk with one mashed ripened banana and 2 Tbsp of unsweetened almond milk
Regular whole wheat flour was used because it's what I had (this may have resulted in a slightly less smooth texture)
Since I ate a lot of our dark chocolate already, I used semi-sweet chocolate chips (even though she advises to not use these since they don't melt as well)
Lastly, I sprinkled some Heath toffee bits on top just because 🙂
The verdict? The texture is definitely fudgy but not in a gooey way. The consistency resembles a mix between a healthy dessert bar and a fudge-y brownie. I think having more chocolate chunks in each bite would've made it extra tasty so I shouldn't have skimped there. If you're used to much sweeter brownies, you may find these to be a bit on the bitter side.
With the modifications I made, I would give the texture a 6.5 and the flavor a 6 out of 10. If we were to have a different rating system for "healthier desserts", it would definitely get a higher rating.
Never having made brownies before, this was a lot of fun to make. Heck, I just enjoy making desserts whenever I get the chance to do so. It's kind of therapeutic.
These brownies definitely do the trick for when I'm needing a dark chocolaty sweet fix that isn't overindulgent.
Do you like your brownies more cake-like or fudgy in texture?