Note to self..again and again.
Though, just starting, or rather taking that very first step, alone really isn't enough. At least not for me.
And that isn't to say that if you've gotten over the fear of finally starting something that's important to you, I commend you and congratulate you big time. Taking that first step can be pretty magical.
But what I'm referring to is the struggle of continuing down the path of what we've started.
If you could see the amount of Google docs or notebooks I've scribbled in where I've started brainstorming on topics or ideas with the hopes of eventually revisiting and making something of one day.
And I don't seem to be good at making it easier for myself to finish what I've started. I'll start questioning how I should pursue the idea and how it will present itself. How long will it take to bring the idea to life? And if the idea is even worth pursuing at all.
Cue the onslaught of indecision and doubt.
That cool idea, that concept that I got pretty jazzed about never sees the light of day.
It's even more frustrating knowing that I didn't used to be this way. I didn't overanalyze what was ahead.
What I've learned about myself over the past few years is that I'm most energized by the start of a new project along with being elated when it's completed.
And what about the (anticipated) drudgery in between? Yea, we can't really do without it.
In my head it sometimes looks something like this:

All of our life we've been taught to set goals and dream big as if that's enough. This pretty much equates to success living at the finish line so we fantasize about the finish line. We feel like losers if we don't reach it.
This can cause us to be so unkind to ourselves.
Don't mind me as I oversimplify how we can shift our way of thinking but what if..
What if we enabled ourselves to more easily be able to start again and again? With each next step.
So that it looks like this: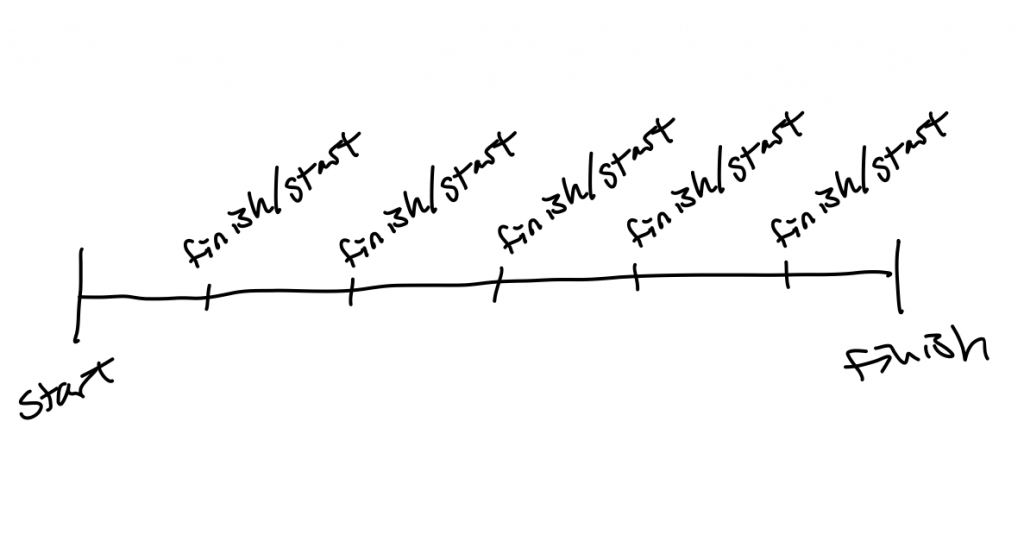 Let's decipher this further:
The opportunity to feel excited doesn't only have to exist at the very beginning and at the very end. You can also celebrate the tiny wins throughout the process.
That next finish point, be it the completion of a task or a mini project, won't feel as daunting to reach.
Each small finish brings you closer to the big one.
You might even reach a finish point during the process that leads you in a new and even better direction than the one you've envisioned from the very start. (This happens to me a LOT)
I've made things hard enough on myself and I know I'll likely continue to do so because I'm human as heck but I hope that by drafting reminders and notes like this that somewhere along the way it can help you too 🙂
An excerpt from one of my Google docs that snapped me out of dwelling in a moment of misery this past week:
Don't get defeated before you consider next steps
You owe it to yourself to not only start but to keep going. It's everything that happens in between that matters.
-Christine